Feedback Mode is a new beta feature we're testing on Fender Play. It listens as you play along and gives feedback on your accuracy. See what you're playing well, get tips to help with areas that need some work and use the practice tools to help fine-tune trouble spots.


In this article:
Where can I find Feedback Mode?
Backing Tracks & Example Audio
Where can I find Feedback Mode?
Feedback Mode is currently being tested on Song and Riff Courses on the guitar Paths. If a Song has Feedback Mode available, you will see a Feedback Mode badge on the Course card.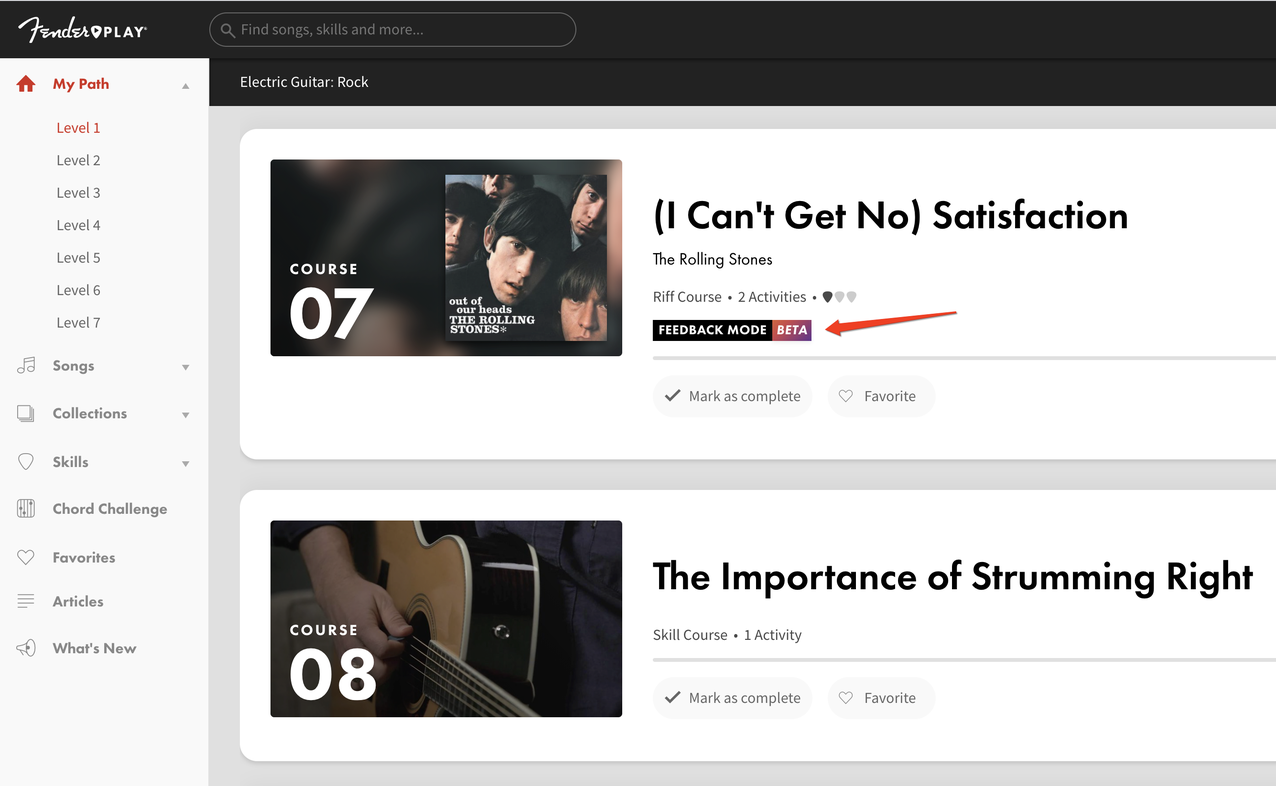 After locating a Song or Riff with the Feedback Mode badge, scroll to the bottom of the course screen to find the Feedback Mode activity listed under Practice Mode.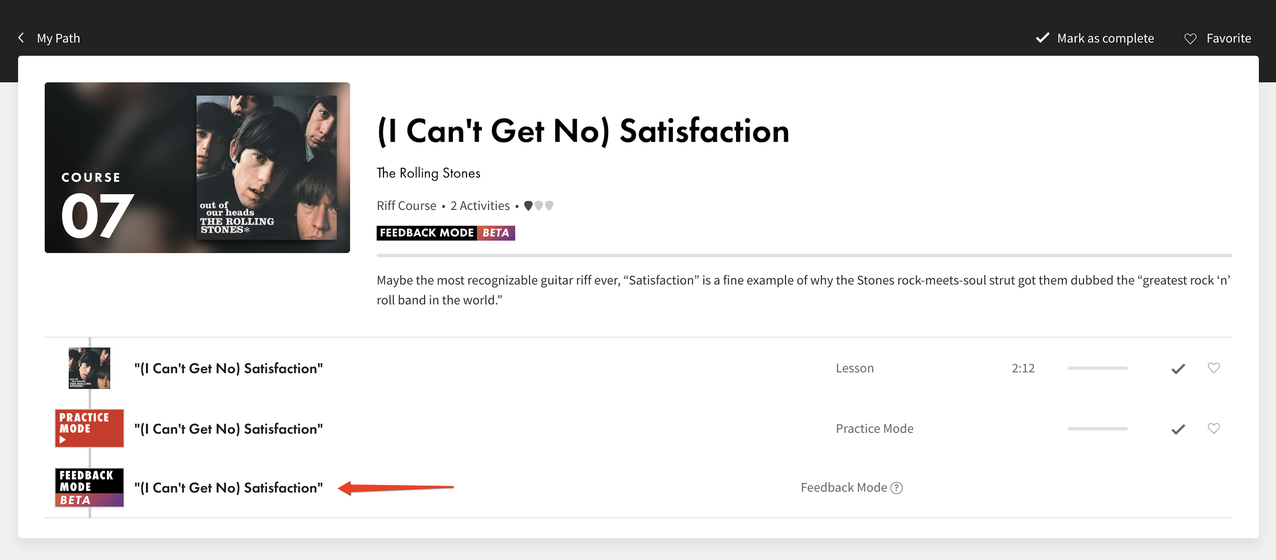 How do I use Feedback Mode?
Start by watching a tutorial video featuring Fender Play instructor Matt Lake. For more details about each individual tool available in Feedback Mode, keep reading.

Feedback Mode has several tools available to help you improve your playing. We suggest that you use them to gain feedback on your playing and to focus on specific areas that need improvement. Then try again to see if you've improved.

Feedback
Click Feedback to record yourself playing along with the tablature in your lesson.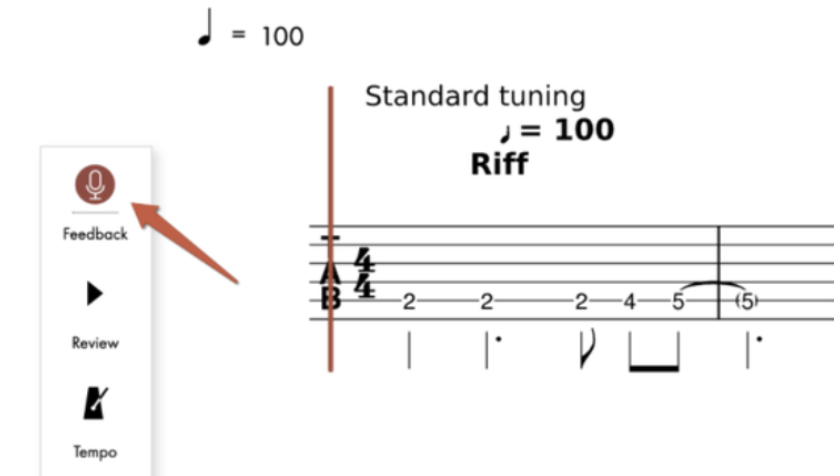 The first time you use Feedback Mode, you'll be prompted to enable your microphone. Click "Allow" so the app can hear your playing and give feedback. Click here for more help on enabling your microphone.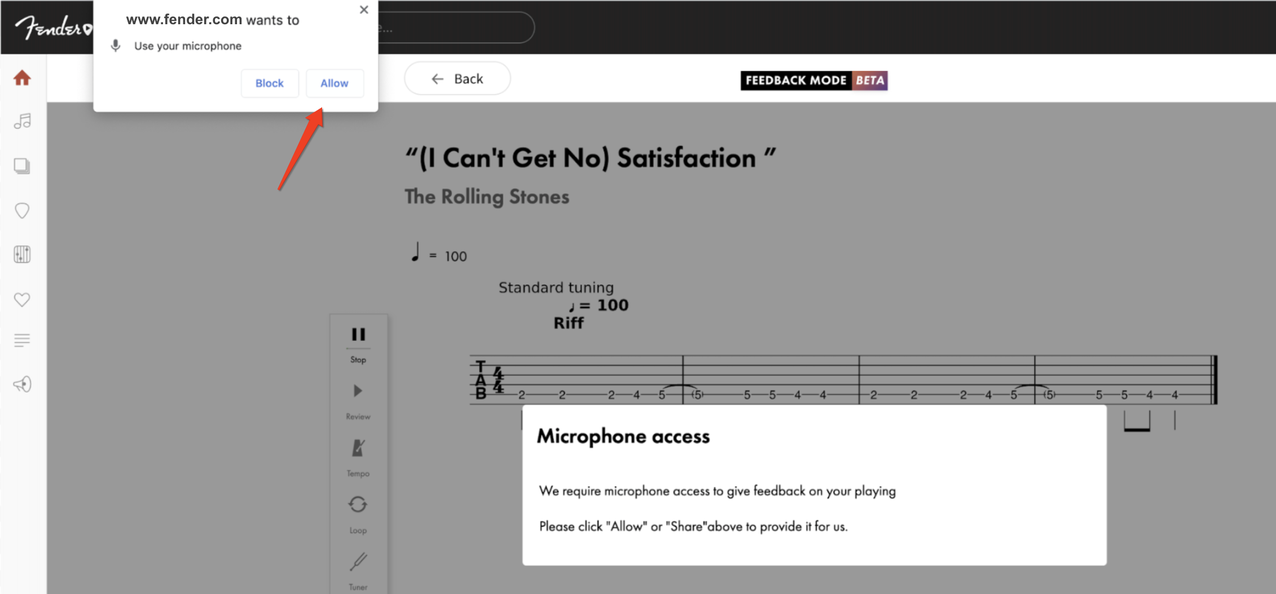 After enabling the microphone, a 2-measure count-in will happen before the playback begins, to give you time to get your hands back to your instrument and prepare to play.

Similar to Practice Mode, you'll see a scrolling red line moving across the tab. Play along with the scrolling tab and the app will listen to your notes, chords, and rhythm.

NOTE: Your recording is not stored — it's only used to assess your playing. Your recording will NOT be saved after you complete a Feedback Mode exercise.
Scores
When you're finished playing, you'll receive information about your playing. There are two levels of feedback that you will receive.

First, a pop-up screen will present your score.
The overall score listed at the top is an average of the three key elements below. If your overall score is 60 or less, you may only see your total score and a prompt to try again.
Length Score reports on what percentage of the exercise you completed.
Pitch Score gauges your accuracy in hitting notes and chords correctly.
Rhythm Score provides information on your ability to maintain a consistent rhythm that matches the tab.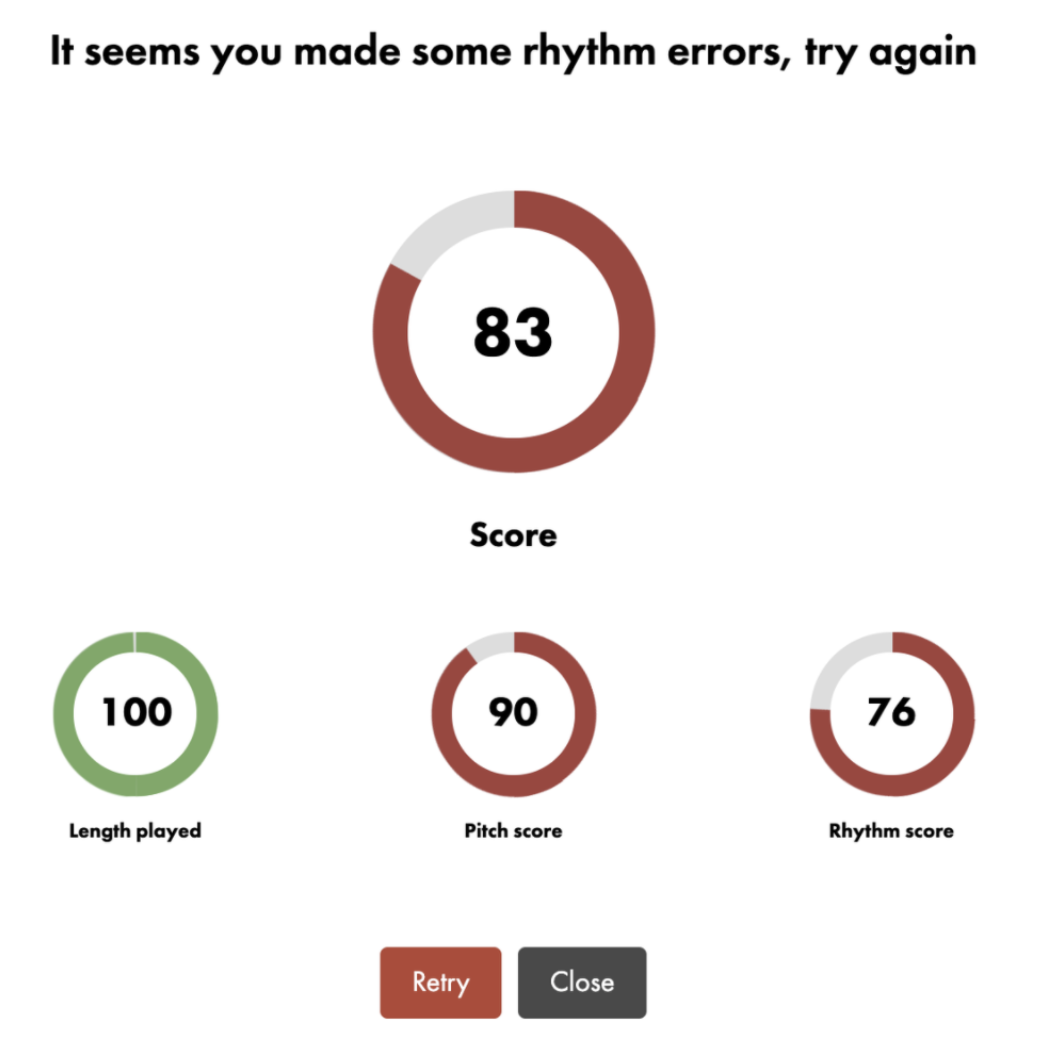 To view more detailed feedback, close the score screen and study the tablature you just played, paying attention to the lines displayed below the tab.

Detailed feedback:
The grey sound wave shows what you played.
The colored line on top compares your playing to the tab.
Green means you played the correct notes or chords and a straight line means your timing was right on.
Yellow and red highlights areas needing improvement. Wavy sections indicate rhythmic errors.
Hover over the yellow and red sections to view messages with more detail on what and how to improve for next time.
NOTE:
Your high-level scores and detailed feedback will NOT be saved after you complete a Feedback Mode exercise.
Review
Use Review to hear a playback of your recording after using Feedback. If you hit Review before recording, you will hear an example of the exercise.

Tempo
If you want to practice a bit more before trying to record your playing, select Tempo and adjust your bpm (beats per minute) incrementally to work on your playing speed.
Adjust the playback speed using the slider or using the -5, -1, +1 or +5 increment buttons.
Start slow and gradually work up to faster tempos.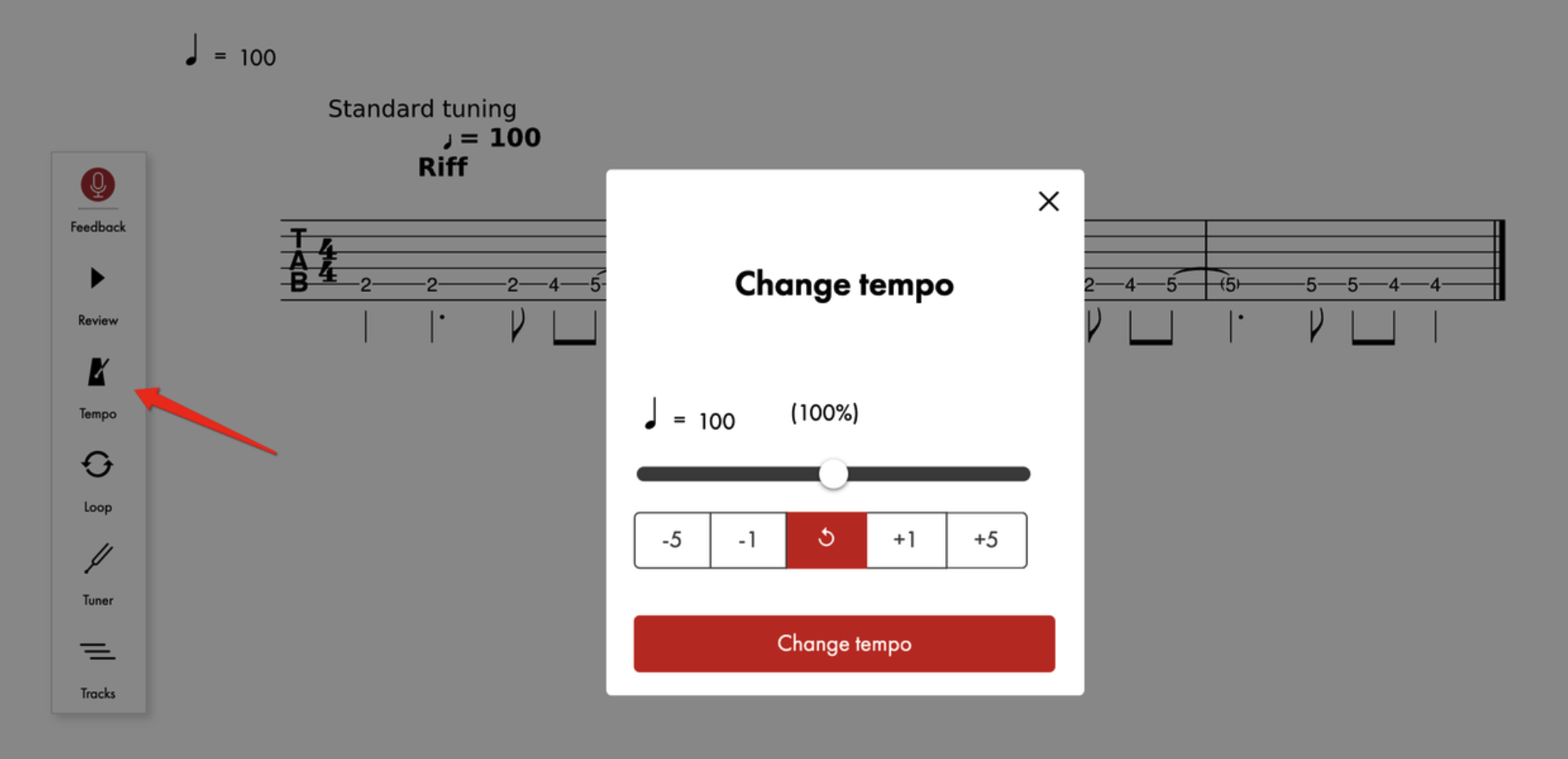 Loop
Use the Loop function to highlight a section of the tab that you want to repeat and practice continuously. This can be helpful to practice tricky sections or measures needing some extra attention.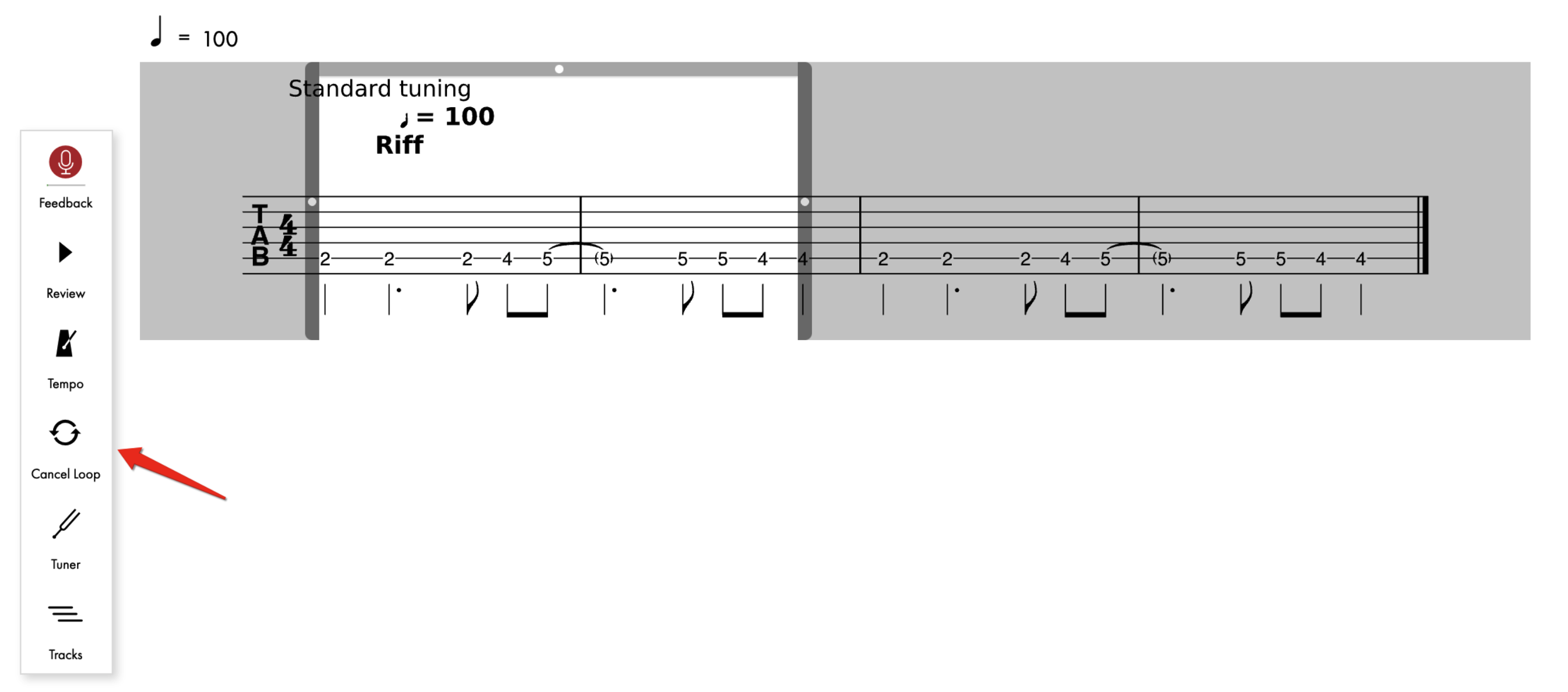 Drag the loop brackets to choose what measures to loop.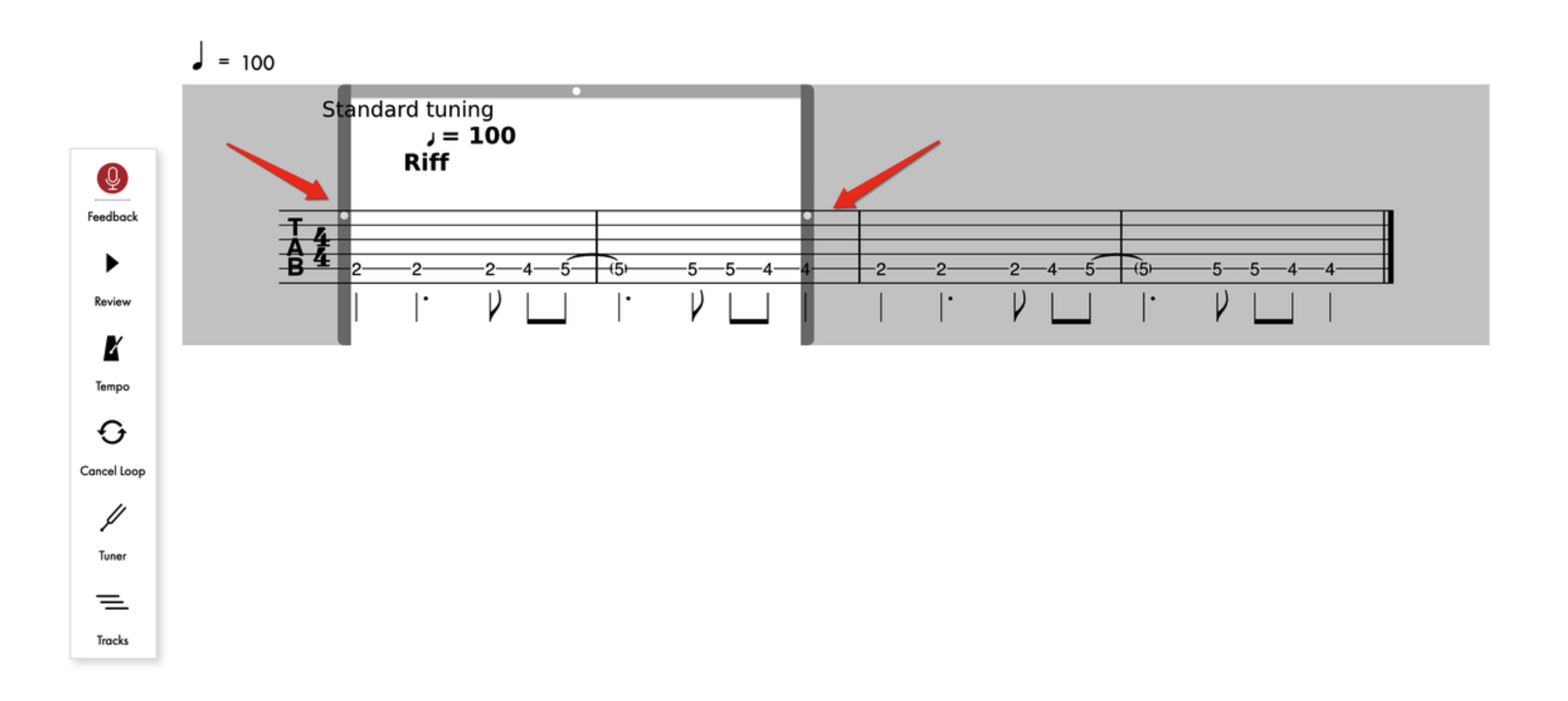 Click Cancel Loop to stop the continuous playback of the looped section.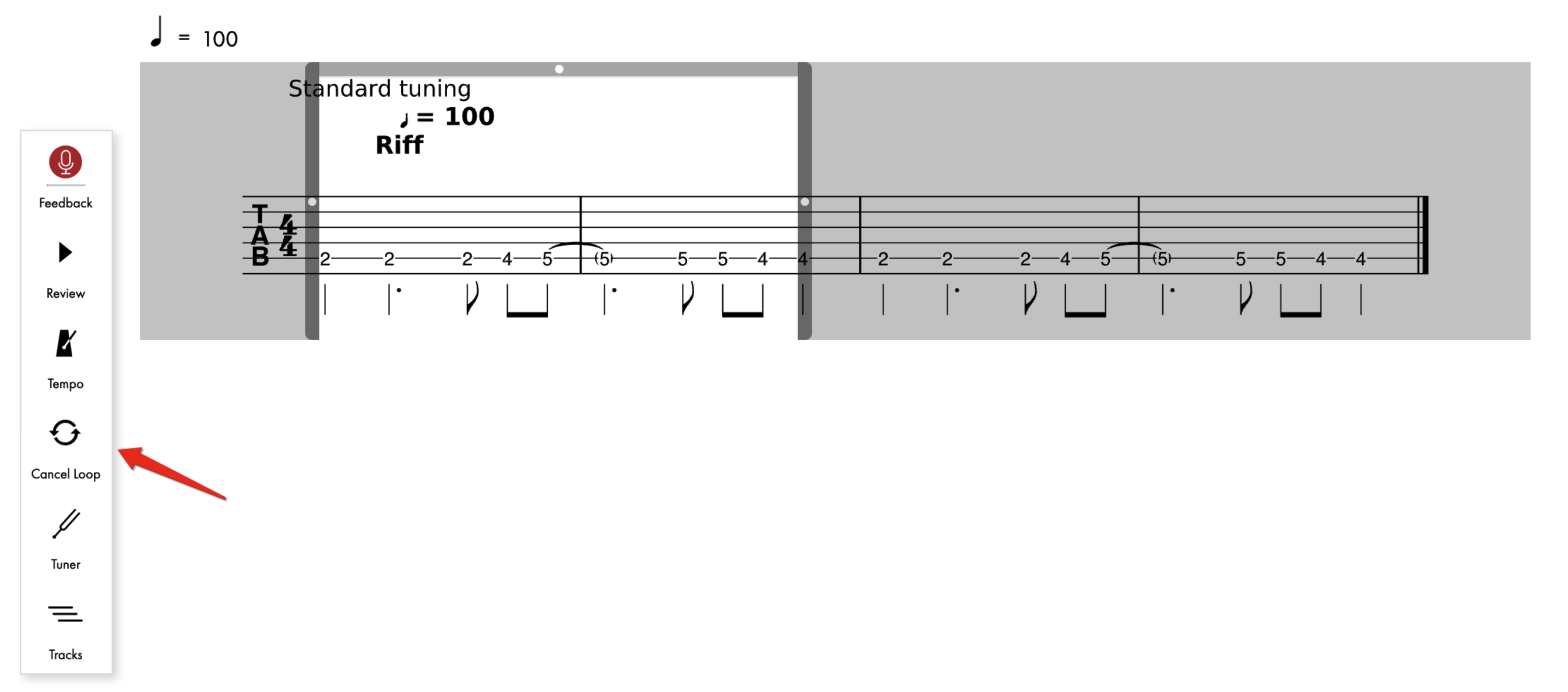 Tuner
Out of tune? There's a built-in Tuner!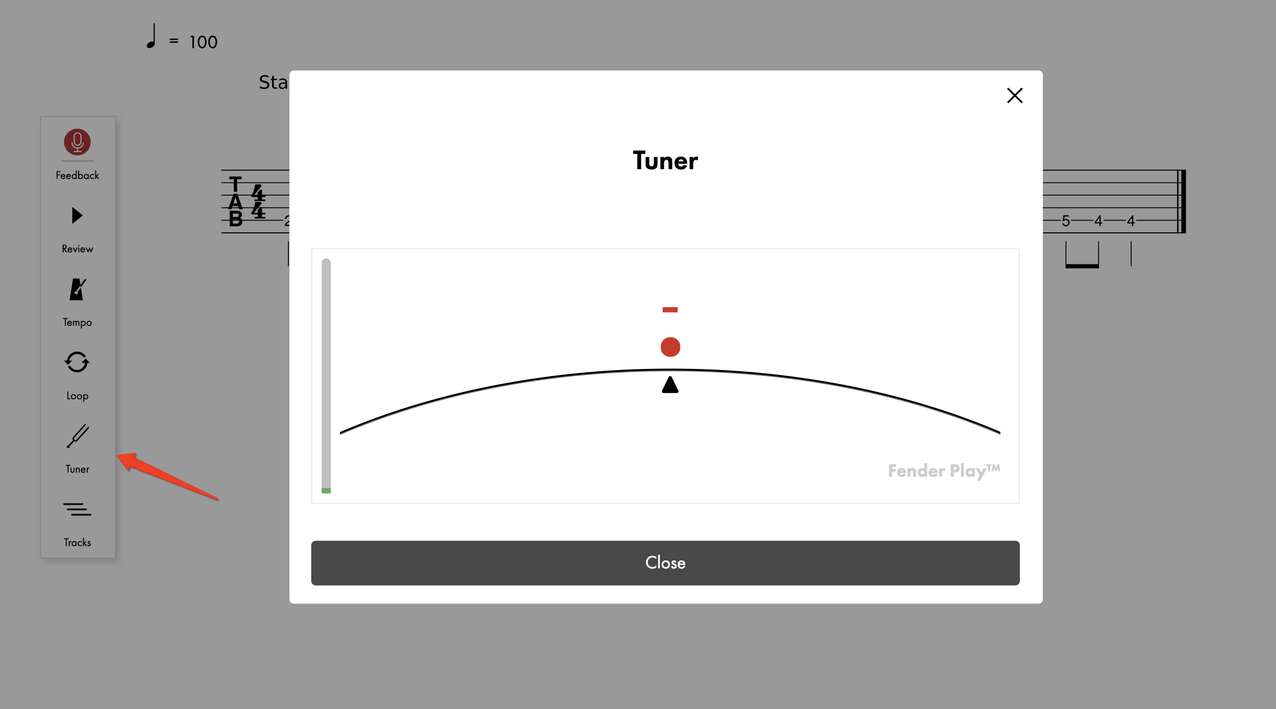 Pluck a string and tune up or down until the arrow is directly in the middle.

Click here for our lesson on tuning your acoustic guitar.
Click here for our lesson on tuning your electric guitar.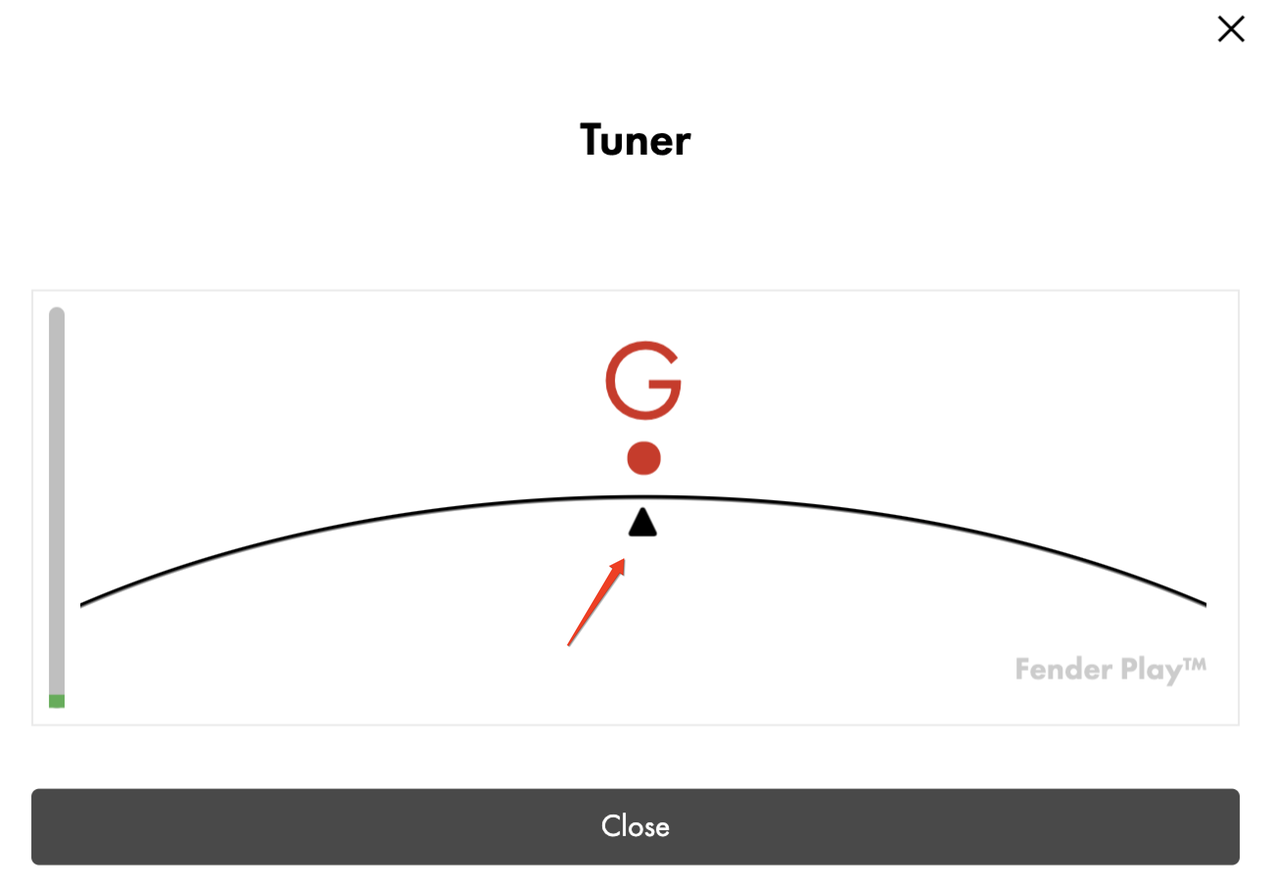 Tracks
This tool helps you to set up what you hear in the background when you are using the Feedback and Review tools. It includes three settings: Example Audio, Backing Tracks or Metronome.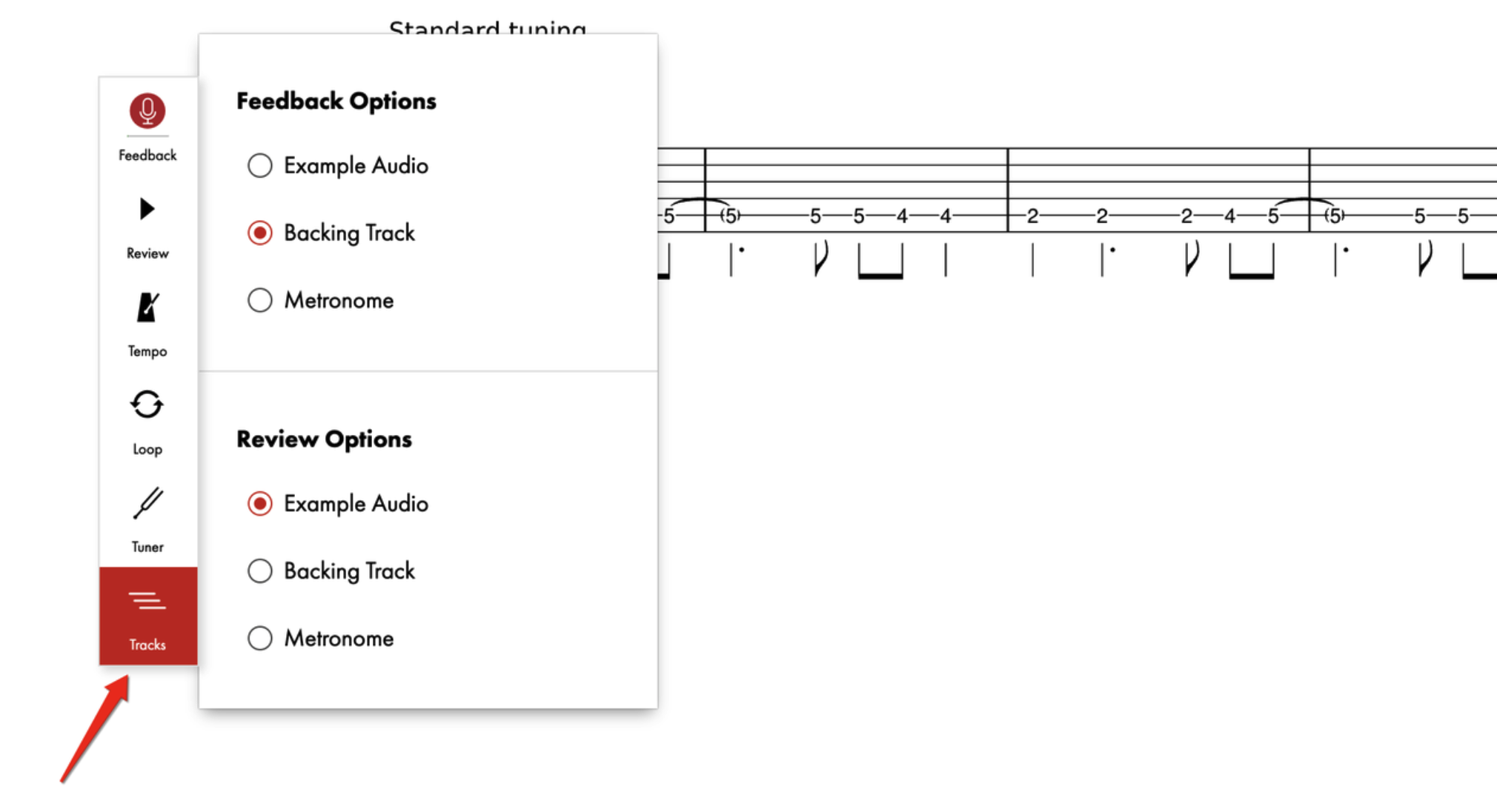 NOTE: If you choose Example Audio or Backing Tracks as your default in the Tracks menu, we strongly recommend that you use headphones while recording your playing in Feedback. This will ensure that the microphone only picks up your playing, not the backing tracks that you'll be playing along to.
Exiting Feedback Mode
Once you're done with Feedback Mode, click the Back button to return to the Course screen.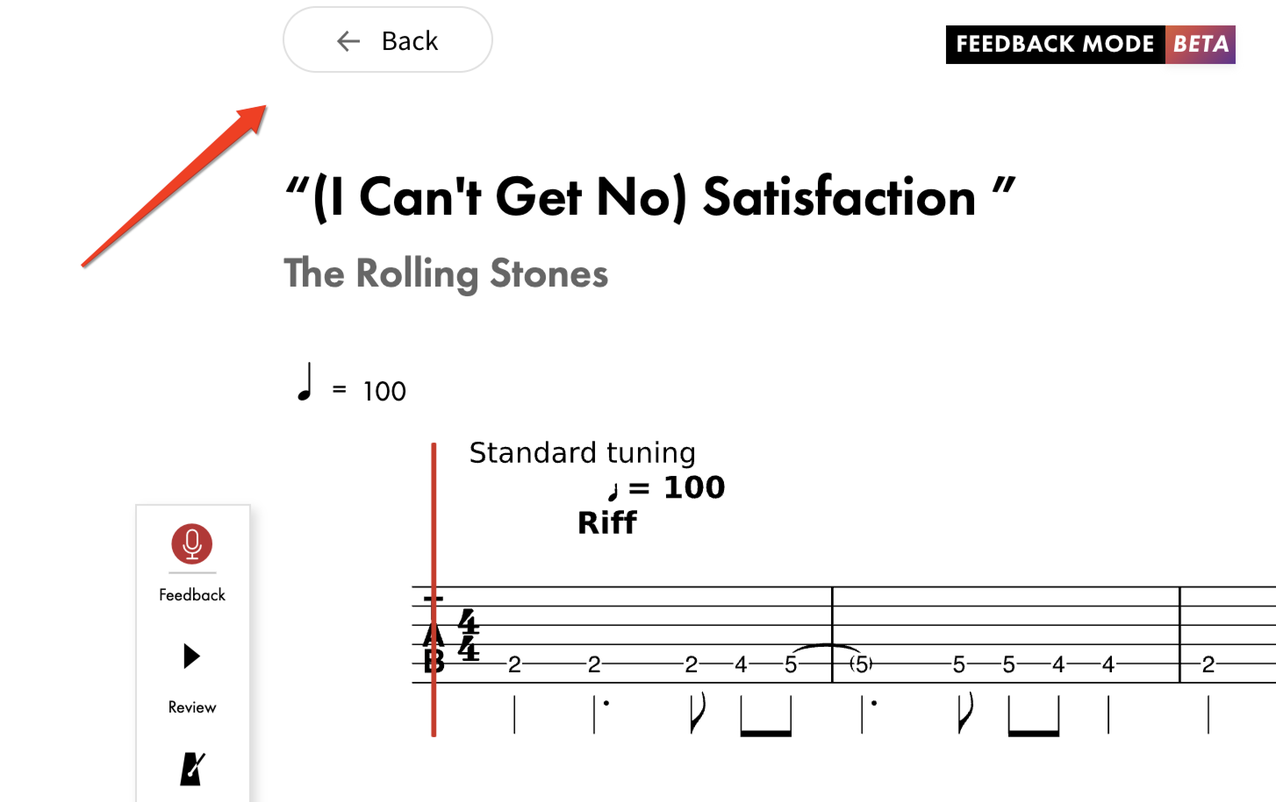 From there you can click My Path to navigate on to the next Course or Level.